HUD-Compliant Radon Testing for Multifamily Housing Near Reading, Harrisburg, Lancaster
Your local radon professional for complete inspection & testing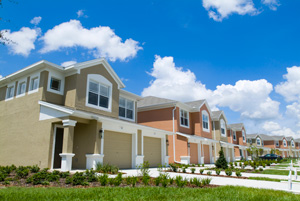 Our Radon Testing Services
Radon inspection & testing for multi-unit housing (apartments, condos, townhouses, etc.)
Radon Report issued for test results & necessary mitigation work
Quality control testing
Post-mitigation testing
Mitigation services for existing buildings & new construction
Organized jointly by the U.S. Dept. of Housing & Urban Development (HUD), the Environmental Protection Agency (EPA), the National Institute of Standards (NIS) and other federal agencies, the ADVANCING HEALTHY HOUSING initiative has identified radon testing and radon mitigation as major priorities in improving the healthfulness and safety of our nation's housing.
Newly-established HUD guidelines recommend testing all units in a multifamily building to ensure that no resident is exposed to hazardous radon levels. If you are applying for HUD-backed financing or refinancing for a multi-family building, you must have a radon test performed by a radon professional and provide proof of radon mitigation if necessary.
M. Webster Construction, Inc. specializes in radon testing for apartment buildings, condos, townhouses and other multi-family properties in Pennsylvania.
If you are concerned about the radon levels in your building, contact us today to have your multi-family building tested.
What types of HUD mortgages require radon testing?
Multifamily Accelerated Processing (MAP)
Traditional Application Processing
New construction or substantial rehabilitation of multifamily housing
Purchase or refinance of existing multifamily rental housing
Construction or substantial rehabilitation of rental housing for elderly or disabled
Why is radon testing important?
Special equipment is needed to detect the presence of radon gas. In the U.S., exposure to radioactive radon gas causes some 21,000 deaths every year. Most of these deaths could be prevented by testing residences for radon and by installing radon abatement systems in homes that test above the actionable level of 4 picocuries per liter (pCi/L) of interior air. If the radon levels in your building are found to be above the actionable level, we offer radon mitigation for HUD buildings to effectively reduce radon levels.
We are Pennsylvania's certified, licensed radon specialists

A typical community is served by a number of contractors who advertise radon testing services. But not all radon contractors are certified, licensed professionals. According to new HUD requirements, radon testing and radon mitigation in multifamily housing must be performed under the supervision of a licensed, certified radon specialist.
Multifamily residences often have large foundations and extensive HVAC and ventilation systems. As an experienced, certified contractor for radon testing and mitigation services in Pennsylvania, we can ensure the most accurate, up-to-date work to detect and correct radon problems.
Take action today! Contact M. Webster Construction, Inc. to make sure your apartment or multifamily unit is not contaminated with cancer-causing radon. We provide free estimates for radon mitigation system installation with radon testing in Ephrata, Lititz, Lebanon, Middletown, Manheim, Hummelstown, Elizabethtown and nearby.
Looking for a price? Get a no cost, no obligation free estimate.